Question of the Month Contest
SUBMIT YOUR ANSWER BELOW FOR A CHANCE TO WIN $50.00!
Taken from our best-selling book…"If It Weren't For Us Christians, There'd Be A Lot More Christians."
Best Answer of the Year wins $250 bonus for Christmas!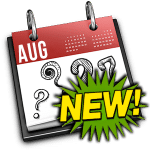 August 2019 Question of the Month:
If a non-Christian, an atheist or even someone sincerely looking to consider Christianity, and they make the following statement to you… "I can't believe in a god that allows so much evil."….how would you answer that objection to our faith?
WE HAVE A $50 WINNER IN LAST MONTH'S CONTEST!
Congratulations Denise of Tallahassee. Your check is on the way!
JULY QUESTION: In a church parking lot where there are only minimal spaces to park, one family continually takes up 2 spaces with their careless attitude towards parking. Would you point this out to them or just let it go?
WINNING ANSWER: If I knew them, I would probably ask if they could try to park in one space. I would not say anything if I thought they needed the space.
Click here to see all answers to the July Question of the Month.
Scroll down to see previously submitted answers!
Previously Submitted Answers:
The Devil (Satan) is the prince of this earth. God allows him to do his "things" and Sometimes these things actually help us in our walk. If the devil begins attacking us we have the option of stating, out loud, "Satan get behind me in the name of Jesus of Nazareth" (or something similar audibly spoken) because he can only be in one place at one time.
Eddie, Port St. Joe
I would say God doesn't allow evil he gives us a choice to make the right decision and if there were more Christians there would be less evil.
Kaila, Youngstown
When Adam sinned, he turned the control of earth over to satan. And although God's plan will ultimate triumph, satan is the god of this world, and he is the cause of all evil. God can intervene only when asked to by His people.
Rhonda, Panama City
God wants only love, but there are evil people that follow the devil.
Jackie, Panama City
God doesn't condone evil. He gave man free will, so therefore evil exists in people ruled by satan.
Terry, Panama City
I'm not sure how to answer that question without possibly offending someone or hurting someone's feelings. God gives us free will to live our lives as we wish. God also provides us with a book that explains what happens based on the choices we make. Most people seem to make bad choices.
Scott, Panama City
Free will. God, like other parents allow their kids to make their own mistake.Temptation to sin is in all of us. When one gives into sin the evil one takes over. SO it is not God that is allowing evil in it is the sinner that invites it in. God will forgive us for giving in to sin. Just like we forgive our kids.
Phyllis, Southport
God has given us the freedom to make choices. Your sins cut you off from God and therefore he will not listen anymore. People don't care about being fair and honest. They conceived evil deeds and go about sinning. They are violent and murderous. He will repay them for their evil deeds.
Robin, Youngstown
The Bible makes it plain that God did not create the world in the state in which it is now. Evil came as a result of the selfishness of man.The Bible says that God is a God of love and He desired to create a person and eventually a race that would love Him. But genuine love cannot exist unless freely given through free choice to accept God's love or to reject it.
Chris, Panama City
When Adam and Eve disobeyed God, they did not choose something God created, but, by their choice, they brought evil into the world. God is neither evil nor did He create evil. Man brought evil upon himself by selfishly choosing his own way apart from God's way.
Marlenna, Panama City
God allows evil in the world, for if He was to remove it, He would have to remove us, as we are all inherently evil because of sin.
Leigh, Panama City
People are the ones who choose to do evil and it is evidence of our sinful nature. I believe God allows people to do evil and experience the effects of it, with hopes that we will turn to Him for help, healing, purpose, answers, and peace, etc. God wants us to realize we need Him and that salvation is in Christ alone. He will make things right in the end.
Michael, Lynn Haven
We worship an amazing God! I believe that there is many things that happen in this world that we just cannot explain. We have to trust in God and respect his decisions. He knew us before we were born and knows what lies ahead for us. I would rather trust in him and believe that he is looking after me than spend an eternity in Hell.
Beth, Panama City
I believe some people believe that God causes certain things. However, I think he allows them, rather. There is a lot of evil due to sin. We live in a fallen world. God is a gentleman. He does not make us choose him. He simply asks us to believe. In return, we get the gift of salvation.
Brandy, Lynn Haven