Question of the Month Contest
SUBMIT YOUR ANSWER BELOW FOR A CHANCE TO WIN $50.00!
Taken from our best-selling book…"If It Weren't For Us Christians, There'd Be A Lot More Christians."
Best Answer of the Year wins $250 bonus for Christmas!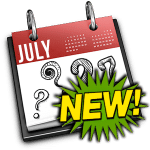 July 2019 Question of the Month:
In a church parking lot where there are only minimal spaces to park, one family continually takes up 2 spaces with their careless attitude towards parking. Would you point this out to them or just let it go?
WE HAVE A $50 WINNER IN LAST MONTH'S CONTEST!
Congratulations Anna of Panama City. Your check is on the way!
JUNE QUESTION: Ever heard a Christian use the phrase "Pardon my French but…" right before they use a profane word or two?  What is your opinion of this situation?
WINNING ANSWER: In the distant past, the phrase "pardon my French" was used by English speakers who included French words and phrases in their conversation. In more modern times, the phrase is used by speakers to precede profanity or extreme crudeness, not French words or phrases. Although the phrase is an immediate alert for what is about to be said, it does not excuse vulgarity or profanity despite what some might think.
Click here to see all answers to the June Question of the Month.
Scroll down to see previously submitted answers!
Previously Submitted Answers:
If I saw them, I would ask them why they were taking up two spaces in a very nice way . If I did not see them, I would leave a politically correct note and ask them to only use one space. And that is my nice answer!
Ann, Youngstown
I would park in a way to block them and when they couldn't get out they would be forced to ask me to move and that's when I would apologize to them and let them know I noticed the way they parked taking up two spaces forced me to park the way I did and apologize again and then suggest it if they park differently I wouldn't of had to park the way I did and I would not do it again and maybe they could not take up two spaces again either
Brian, Chipley
First I would ask myself, "is there a reason they need the additional parking space," maybe they can't maneuver safely in a single parking spot, maybe there is some limitations to their mobility of getting in and out of a car that the extra room is needed.
Linda, Whitleyville, TN
If we really need the space, I would suggest to someone that maybe they should gently explain it to that family. Then give them a plate of homemade chocolate chip cookies!!
Teresa, Panama City
I would just let it go, some people can't see as well as others.
Kathy, Panama City
I would say folks if you would wash your vehicle the amount of dirt you would get off of it your vehicle would fit in one space. This is hypothetical of course.
Scott, Panama City
If I knew them, I would probably ask if they could try to park in one space. I would not say anything if I thought they needed the space.
Denise, Tallahassee
Hmm.. this is a tough one . Lately I have been a grump bucket so I may say something??
Brandy, Lynn Haven
Let it go. Show them grace. No one is perfect.
Patty, Southport
I would ask if I can give them a ride to Church every weekend.
George, Panama City